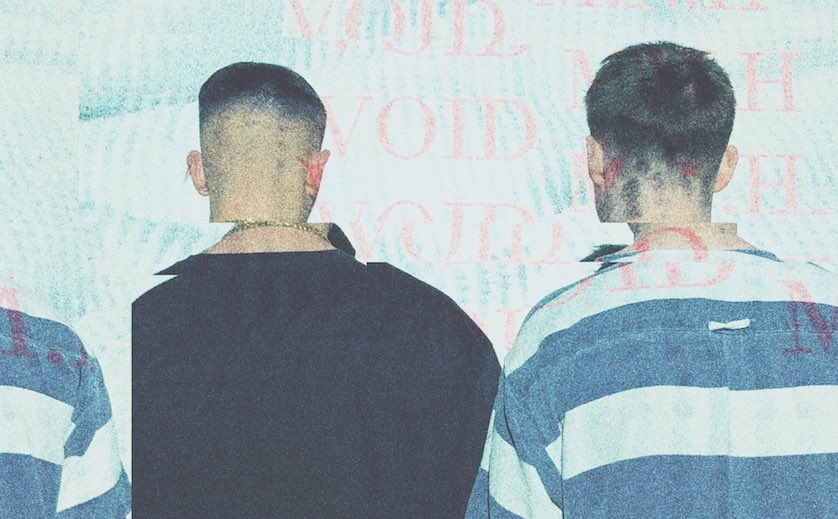 Last summer, we were introduced to the "faceless" musical duo called VOID, made up of two young guys "concentrating on mental health and trying to help break the stigmas surrounding the subject through our music."
Having previously identified themselves simply by initials, they're still maintaining their anonymity while now going by the monikers "Rocco" and "Jax." And over the past year, they've built a social media community of fans, many of whom have been drawn to the pair because of their openness talking about their struggles with mental health.
Perhaps inspired by this ongoing discussion, the pair this week launched a podcast appropriately titled VOIDfeels, with the first episode released on Sunday. As one might expect, Rocco and Jax jump right in, candidly talking about their experiences and issues with anxiety, depression and more, all in a very casual, no frills format, guided largely by questions from fans.
The first episode begins with a cut of VOID's music, with other tracks soundtracking the 45-minute installment, including multiple clips at the end, which they explain are intended to help listeners relax or possibly sleep a bit more easily.
While the topic of mental health is admittedly a serious and complicated one, VOID manages to remind those listening of the validity of their struggles while also making the conversation light-hearted and approachable, as if you're just hearing a couple of your friends talk about life—and their favorite cereals.
To be clear, VOID says in the podcast notes and in the audio itself they are not healthcare professionals but rather two music-makers who are trying to create a more open discussion around subjects which are sometimes difficult to talk about, in music and in society at large.
As we previously mentioned, VOID first developed their following with a series of covers and reworks of songs by the likes of Lorde, The 1975, LANY and Billie Eilish. They've since released a 17-minute mixtape in additional to other tracks. But it's clear they recognize a purpose larger than just music. And that's a wonderful thing to see.
The first episode of the VOIDfeels is available to stream now wherever you get your podcasts, including Apple Podcasts, Spotify and TuneIn Radio. To follow the discussion or ask a question on social media, they encourage listeners to use the hashtag #VOIDfeels.
Hear episode 1 below via TuneIn.