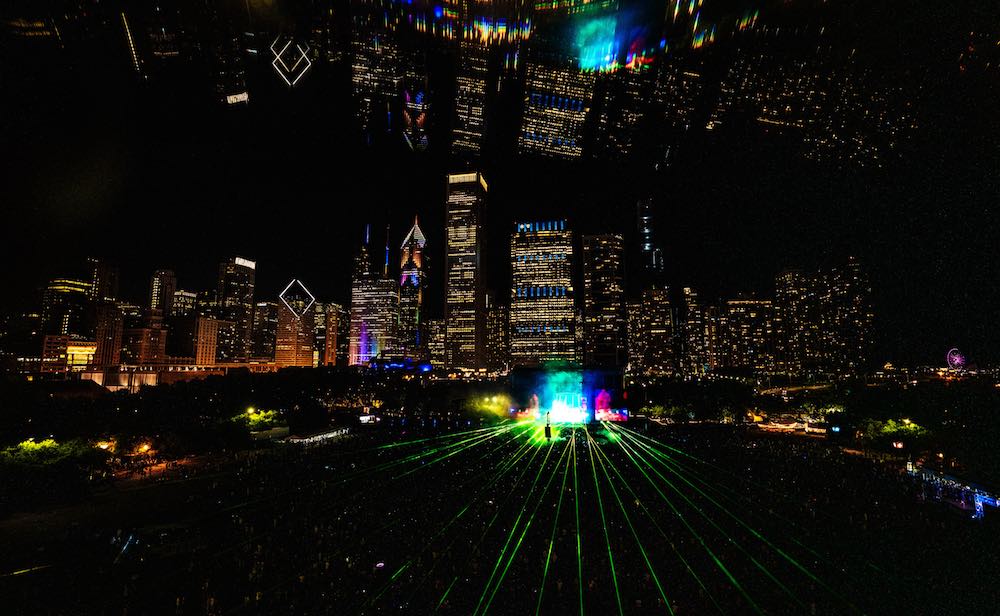 For the most ardent music fans, a successful festival is as dependent upon strategic pre-planning and hard choices as it is the acts themselves.
In its 15th year at Chicago's Grant Park, Lollapalooza boasted nearly 50 different artists and bands each day. Organizers made sure to force attendees to make some brutally tough calls, overlapping fellow Australians FISHER and RÜFÜS DU SOL on Thursday, slotting superstar acts Alesso, Childish Gambino and Tame Impala over the same time slots on Friday and pitting Arianna Grande head-to-head against Flume on Sunday night.
This is, in part, done to break up the estimated 400,000 who came through the gates over four days. 
But while ticket sales are juiced by the headlining acts that draw the masses, the most seasoned concert-goers know that some of the most rewarding musical experiences at any festival lie within the undercard acts. After all, a true festival experience is meant to expose yourself to new sounds as much as it is relishing in your favorites.
After four days at Lollapalooza, observing 16 different sets, here's a list of five smaller names that soared. Place them on your radar for a future festival or the next time they swing through your hometown. 
CloZee
Playing a mid-afternoon summertime set on the first of a four-day festival marathon is no easy task. It's early in the day for an event that concludes at 10 p.m., the sun can be merciless and smart festival-goers may be saving their energy for the long haul. But placed at Perry's, Lolla's EDM stage, the 26-year-old CloZee delivered a dazzling repertoire which simultaneously showcased her stage presence and her promise. The Toulouse, France-native, who wears a distinct ponytail, intersperses Asian influences into her trademark cinematic flair. Her world bass electronic sound didn't stop the younger Lolla crowd from forming a mosh pit, leaving loyal CloZee fans shaking their heads. CloZee didn't seem to mind. "The crowd was definitely unique to Lolla," she told me afterwards. "I don't have people mosh pitting to my songs usually. But it was fun. Younger crowd, they need to spend their energy somehow." From the stage, she was beaming. "Merci!," she exclaimed as she concluded. Later, she was spotted slipping in to watch FKJ's set, going virtually unnoticed. Come 2020, she's promising a new album.
AJR
I had only begun sampling AJR in the two weeks prior to Lolla, as I was putting together a rough lineup plan. But as soon as I heard Neotheater, the group's latest album which dropped in April, I easily slapped this trio of brothers on my must-see list and can report I have no regrets. The minute Adam, Jack and Ryan raced onto the Tito's stage on Saturday, their energy was contagious. They began with "Next Up Forever," a ballad that quickly turns into a high-tempoed lyrically-driven pop-hip hop song that addresses the trepidation that can accompany life's accomplishments. "Don't Throw Out My Legos" is another fun, punchy plea to their parents not to get rid of their stuff, just in case they need to escape adulthood and move back home. As I took in the show, a friendly gentleman from Mississippi standing beside me offered an assortment of drugs: Molly, then Acid, then a joint, all of which the author politely declined. He explained that he also just recently discovered AJR but was similarly drawn to their hard-to-define but alluring dreamy sound. Apparently, AJR really has something for everybody. They even had the crowd hopping when they riffed the theme song for The Office.
Judah & The Lion
Here's a new rule to live by: If you see Judah & The Lion on a festival lineup, go. Even if they're up against a favorite of yours. Even if it's raining. Even if your feet are burning. Judah & The Lion are guaranteed to make you dance, jump and belt out their lyrics, even if you're just learning them on the fly. Their Lolla set began with lead singer Judah Akers launching himself into the crowd, where he was almost dropped before he even got through the first song. With that crisis averted, the Nashville-based trio got to what they do best: Folk Hop n' Roll, which is conveniently the title of their 2016 album. Gruff lead vocals over strong horns and the strum of a banjo has made hits like "Suit and Jacket" and "Take It All Back," producing the perfect festival feels. Their latest album, which includes worthy tracks like "Over my head" and "Why Did You Run?," has some definite influences from Blink-182, which they covered at Lolla. But when Judah promises on stage that his band is going to give it their all, he means it. 
Madeon
If Judah & the Lion was the most purely joyful set at Lolla, Madeon's might've been the most visually stunning. The 25-year-old electro-pop-house producer from France had taken a three-year hiatus leaving fans wondering what was coming next. He answered at Lolla, debuting his Good Faith live tour, with arguably the slickest produced show of the festival. "I missed you," he declared to fans on Saturday night. Standing between two glass audio boards, Madeon's thin frame still managed to tower on the American Eagle stage, where his visuals seamlessly transitioned from trippy techni-colored hues to glittering white stars on a black backdrop. He treated the crowd to trippy repetitive verses like the addictive "No fear, no more" loop, percussion-centered processions with images of tribalistic drummers in the background and of course, a variation of "Shelter," a fan favorite made with Porter Robinson in 2016. His worldwide tour continues this fall. 
San Holo
This 28-year-old Dutch DJ and musician's performance can often feel like a therapy session, but one where you always leave feeling better about yourself and the world. From his helm on stage, San acknowledges life's ups and downs but reminds his fans to "stay vibrant," which has become a trademark saying of his. He also reveals what percentage blessed he feels at the moment (It was 90% at Lolla) and always asks his fans to share their own calculation. San prioritizes intimate engagement with his fans through his social channels, even scheduling a meet-and-greet for anyone who wanted to hang before his set inside Lolla's grounds. But all this would be for naught without the music, which is as uplifting and melodically beautiful as his demeanor. A guitar regularly infuses an indie rock feel into his future bass, slappy trap core. San is striving for a lighter, but warmer version of electronic dance music that'll make you want to smile and hug someone, rather than enter a mosh pit.
—
David Catanese is a music lover and National Political Correspondent for McClatchy DC. Follow him on Twitter: @DaveCatanese