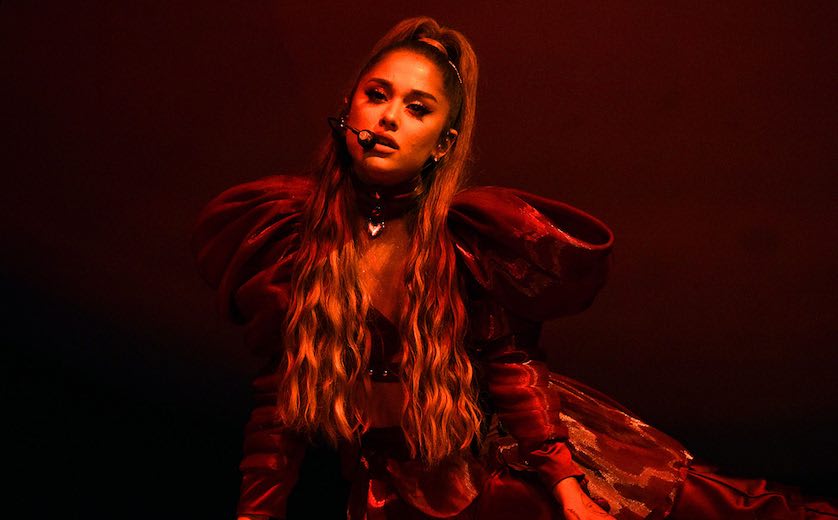 It was the last day of Lollapalooza on Sunday. And that meant some of the most anticipated acts of the weekend were taking the stage. But tragedy in El Paso, Texas, and Dayton, Ohio, was impossible to ignore.
One of the earliest performers, Dreamville rapper J.I.D, paused before his set on the main T-Mobile stage, asking fans to allow for a moment of silence in response to "the bullshit" facing the country right now. After the brief pause, he thanked the crowd and said he just felt it was necessary to "show respect."
For an artist arguably still finding his lane in hip-hop, it was a strong moment. And he continued the momentum as he launched into his set, frequently chatting with the crowd and showing a clear sense of humor. At one point, he nodded to a large catwalk stretching from the stage into the audience, acknowledging he'd been told it was there for Ariana Grande's headlining slot later Sunday night.
"That's OK. I'll be Ariana for now," he joked before singing her lyrics: "Break up with your girlfriend, I'm bored."
As the day went on, G FLIP channeled messages of empowerment and tolerance, informing the crowd at the American Eagle stage her songs were for anyone who has ever been bullied or judged because of who they love. 
As she performed her standout cut "Killing My Time," the Aussie artist's voice did crack, but she was quick to confess she was slightly nervous, having never really performed for large crowds in America before. But a few turns at the drums (including some congas) proved her talent is definitely well-rounded and definitely for real.
Over at the Tito's stage, Francis and the Lights wowed the afternoon crowd with his vibrant music and swift dance moves, both of which were on full display, especially on a live rendition of his song "Friends," which features Bon Iver and Kanye West on the recorded version.
Back at the T-Mobile stage, The Revivalists followed J.I.D's lead earlier in the day with an explicit call to end gun violence. The New Orleans outfit likely already had their song "Shoot You Down" on their setlist, but this weekend's attacks in Texas and Ohio gave additional meaning to the performance of the anti-gun violence track, which they performed in front of an orange backdrop reading "End Gun Violence."
One of the most anticipated acts had to be Rosalía, and she the made the most of her performance on the Tito's Handmade Vodka stage, not surprisingly delivering the majority of her set in their original Spanish lyrics. Sporting a sleek, green outfit, she dazzled the crowd with her powerful vocals and electric dance moves. If it's not clear yet, the Spanish singer is destined to be a massive star. And we simply cannot wait.
Following Rosalía's breathtaking set across the way on the main Bud Light stage, Meek Mill took the mic to a roar of cheers from the audience, welcoming the Philly rapper back to Chicago and perhaps celebrating his victorious return after being freed from prison and subsequently having his 11-year court case overturned, resulting in his being let off probation.
When Kacey Musgraves finally got to take the T-Mobile stage, it was surely a question of when—not if—the country starlet would address gun violence. The outspoken singer flowed through a spirited set of plenty of fan favorites—and even gave her mom a birthday shoutout, as the audience to say "Happy birthday, Karen!" for her to hear as she watched the Lolla live stream from Texas.
She charged forward with a glowing cover of Gloria Gaynor's "I Will Survive" and then her own standout "Space Cowboy," before calming things down with all the stage lights mostly off except for some twinkling rainbows overhead. She thanked the crowd and those still willing to "brave" going to a large festival even with the constant chance of gun violence. 
She then lamented the "shit that's happening in the last 24 hours," before broadening her focus to the slew of mass shootings in America over the last "two hundred and fucking fifteen days in America." She continued: "I don't know what the answer is, but obviously, something has to be fucking done. Maybe somebody will hear us if we all say, 'Somebody fucking do something,'" she shouted, leading the audience in a chant.
" data-instgrm-version="12" style=" background:#FFF; border:0; border-radius:3px; box-shadow:0 0 1px 0 rgba(0,0,0,0.5),0 1px 10px 0 rgba(0,0,0,0.15); margin: 1px; max-width:540px; min-width:326px; padding:0; width:99.375%; width:-webkit-calc(100% - 2px); width:calc(100% - 2px);">