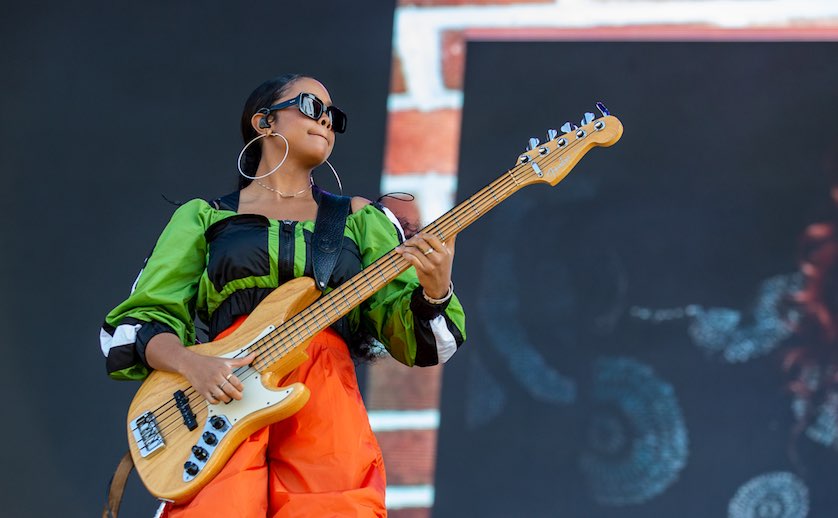 The first day of Lollapalooza was low-key perfection.
While the Thursday lineup was perhaps the weakest of the four days of the Chicago fest, the weather was about as close to perfect as it gets, hovering between high 70s and low 80s with a nice breeze at times. No triple digits or downpours of Lollas past. And the crowd was noticeably lighter—maybe not a thrill for organizers, but it made the park easier to navigate.
Early in the day, YBN Cordae and Alexander 23 served as standouts, with the latter proving the tiny BMI stage will surely be too small for him in no time at all. 
Over on the American Eagle stage, shallou dazzled fans beneath the trees, offering glowing live renditions of his catalog of favorites. That set led into half•alive, the alt-pop favorite which delivered an equally impressive set, including some trumpets. 
Back at the BMI stage, Variance favorite Harry Hudson seemed to have an actual fanbase on hand for his performance, as a number of onlookers sang along with the singer, who not only gave a solid performance but engaged with the crowd handily, explaining the inspiration for his songs, including one which he said is about his ex-girlfriend who hates him now. "But she loves the song," he said to laughter.
On the Lake Shore stage, the same location where fellow former Fifth Harmony member Camila Cabello performed last year, this time it was Normani's turn. She entered to massive cheers and quickly informed the crowd she was nervous backstage wondering how many people would actually show up. "I love each and every one of you," she declared.
While she offered delectable covers of Rihanna's "Diamonds" and Jay-Z's Rihanna and Kanye West-assisted "Run This Town," her performance of her own song "Waves" left a bit to be desired, mostly because she was likely lip syncing the verses and only singing the chorus. Beyond that, however, it was a worthy showing and probably not her last appearance at Lolla. She has a lofty solo career ahead of her and rightfully so.
Then came H.E.R., who realistically could have (should have?) nabbed a later time slot. But on the main T-Mobile stage, she looked like a headliner. Waltzing out with an electric guitar, she was riveting from start to finish, leaving no doubt why she's a recent Grammy winner and drawing so much acclaim.
Between renditions of her own songs such as "Best Part" and "Focus," two highlights were actually covers. First, a stirring version of Foy Vance's "Make It Rain," complete with a mind-blowing guitar solo. Later, she stunned with her take on Lauryn Hill's "Ex-Factor," at times very closely resembling the iconic singer's passionate vocals. 
She closed with a massive performance of "Lights On," which implemented elements of Prince's "Purple Rain." Again, she wowed on the electric guitar before closing with only her vocals as the crowd sang with her. It was enigmatic. 
As the night went on, Lauren Daigle might have seemed a bit out of place, as the Christian singer performed, of all places, on the Tito's Handmade Vodka stage. But she was likely aware of her audience, charming the crowd frequently with pleasant chatter and songs skewing into soul and reggae territory, before delivering her breakout single "You Say," which became a top 40 hit on radio and had the crowd singing along.
With sunset approaching, the party was clearly getting started, as Aussie producer FISHER drew a massive crowd to Perry's stage, the locale for dance and EDM acts, turning the space into a roaring dance party.
King Princess proved over at the Lake Shore stage she is alt-pop royalty with a shiny performance which seemed to literally win new fans as people wandered into the crowd and noted how impressed they were. Considering she has yet to even release her debut album, this was a big moment for her.
Back at the T-Mobile stage, Hozier attracted a huge crowd and was expectedly flawless. And as if he needed a boost, he topped expectations with a guest appearance from none other than Maggie Rogers, whose own Lolla set isn't scheduled until Friday.
The party continued at the American Eagle stage, where Lil Baby earned an oversized crowd, squeezed between the unconventional views between all the trees surrounding the stage. But that didn't seem to matter, as he injected a jolt of energy to close out the night.
But the real party was at the Bud Light stage, where The Chainsmokers headlined and brought out a ton of guests, including Bebe Rexha and Andrew Watt, who came out for "Call You Mine," as well as The Fray, Lennon Stella (who performed by herself earlier in the day), THEY.'s Drew Love, bülow, Kelsea Ballerini and Daya, the latter of whom showed up for "Don't Let Me Down," one of the duo's biggest hits to date.
While some might not be the biggest fans of The Chainsmokers, it wasn't lost on the duo made up of Alex Pall and Drew Taggart, as Taggart told the massive audience they still get nervous and were actually anxious before going out on stage. He quickly pointed toward a smaller stage on the grounds and noted that was where they performed the first time they were at Lollapalooza. 
...